Txakoli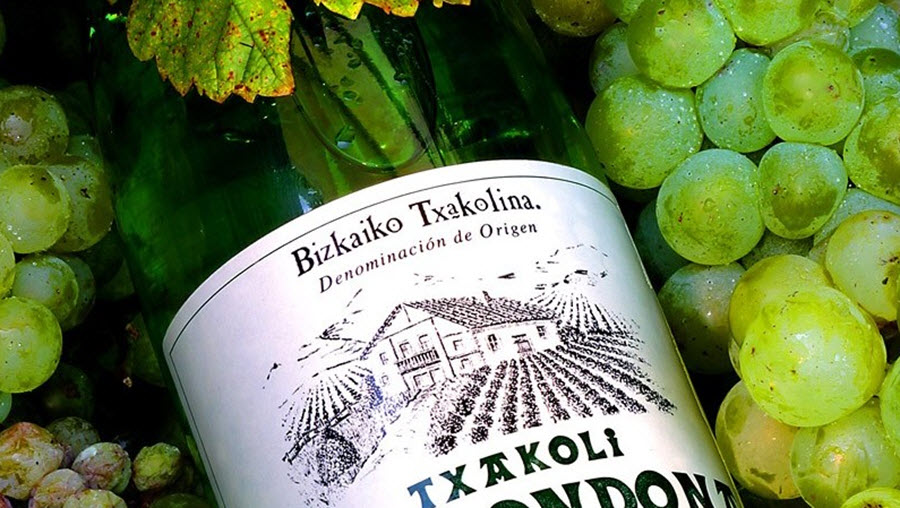 Txakoli is a slightly sparkling wine produced in the Spanish provinces Basque Country, Cantabria and northern Burgos. The name is pronounced [tʃakoˈli].
This type of wine is very dry with high acidity, and the alcohol content is comparatively low (typically within the 9.5 – 11.5 ABV span).
Most Txakolis belong to the white wine category, but there are also some red wine and rosé wine variants available. Txakoli is traditionally served as an aperitif, preferably together with pintxos. When you serve it, pout it into the glass from a height.
Txakoli is a fairly recent addition to the international wine market. Well into the 1980s, it was nearly exclusively a wine consumed were it was made, i.e. In the Basque Contry, in Cantabria and in Valle de Mena. In 1989, some varieties of Basque txakoli achieved Denominación de Origen (DO) certification, and around the same time, both quality and international appeal began to rise for the txakoli. Today, there are three DO certified varieties of txakoli, and a few other areas in northern Spain are working to get their DO certification as well.
The name txakoli (chacoli) is believed to be of Basque origin, bit its roots remain unclear. The oldest known use of the name in Spanish is found in a document from the Basque County, produced back in 1520. In this document, the wine is called vino chacolín.
Making txakoli
A majority of all the grapes that end up being used for txakoli are grown near the Bay of Biscay in northern Spain, where the proximity to the sea causes a lot of rain to fall – typically within the 1000 mm – 1600 mm range annually.
Traditionally, txakoli was fermened in very old, large oak barrels known as foundres. Today, many txakoli producers are using stainless steel vats instead.
Where can I buy Txakoli in the United States?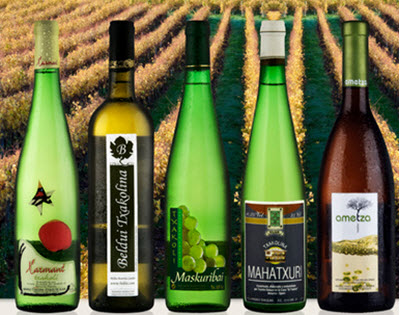 Txakoli can be purchased in well-assorted wine shops, especially those with a rich assortment of Spanish wines. If you are located in the New York area, you can for instance try Astor Wines & Spirits, Millesima, PJ Wine, or Gotham Wine & Liquors. One example of a suitable wine merchant in California is Hi-Time Wine Cellars.
Txakoli can also be ordered online, e.g. through Amazon.com and Wine.com.
In some shops and product databases, txakoli is spelled chacoli. Knowing this can make it easier to track down a bottle where you live. Sometimes you might aslo encounter the word txakolina, which simply means "the txakolin" in Basque.
Beware of old Txakoli when you buy
Txakoli is not a wine that ages well. It should be consumed within one year of bottling. When you buy txakoli, make sure you don't end up with an old bottle. Young and fresh is the way to go with this wine.
Buying suggestions
| | |
| --- | --- |
| Name | Info |
| Doniene Gorrondona Bixkaiko Txakolina | A red txakoli |
| Gurrutxaga Bizkaiko Txakolina | Comes in two varieties; a crispy white one and a floral rosé. |
| Ulacia Txakolina Getariako Txakolina | Apple- and citrus scented |
| Uriondo Bizkaiko Txakolina | Can be described as a "mellow" wine |
| Xarmant Arabako Txakolina | Light and delicious |
Trying different varieties of txakoli
Txakoli from Getaria
Getariako Txakolina in Basque
Chacolí de Guetaria in Spanish
This pale green to yellow variety of txakoli is produced in a small region in Gipuzkoa; not just around the town of Getaria but also around several other nearby towns, such as Zarautz and Aia. Gipuzkoa is a province of Spain and a historical territory of the autonomous community of the Basque Country.
The txakoli from Getaria was the very first variety of txakoli to achieve Denominación de Origen certification, an event which took place in 1989.
The grapes used for white txakoli from Getaria are Hondarribi Zuria, the red grape is Hondarribi Beltza. Both of them are chiefly grown on south-east facing slopes in Gipuzkoa where they are reasonably sheltered from harsch weather coming in from the nearby Atlantic. The vines are grown using a trellis system, with the foliage forming a contiguous canopy to improve the microclimate.
Txakoli from Biscay
Bizkaiko Txakolina in Basque
Chacolí de Vizcaya in Spanish
This was the second txakoli to receive Denominación de Origen (DO) certification, an event which took place in 1994 – five years after Getaria. Txakoli from Biscay is grown in most parts of Biscay, except for the very westernmost areas. The microclimatic conditions vary a lot between different growing spots within Biscay, and this can have a huge impact on the qualities of the finnished wine.
Both Hondarribi Zuria and Folle Blanche grapes are used to make white txakoli in Biscay. Locally, the Folle Blanche is known as Munemahatsa. The grape Hondarribi Beltza is grown to make red txakoli. Earlier, the red Oilar Begi ("chicken eye") was also popular, but this grape is almost extinct in Biscay now, even though efforts are underway to save it from oblivion.
Txakoli from Alava
Arabako Txakolina in Basque
Chacolí de Álava in Spanish
This txakoli was the third one to get the Denominación de Origen (DO) certification, and it has only been certified since 2001. Álava is the largest of the three provinces in the Basque Autonomous Community, but txakoli is only grown in the far north-western end of the province.
Txakoli from Alava is very acidic, slightly frothy and looks yellowish. The most commonly used grape is Hondarribi Zuria ("white Hondarribia"), but certain other grapes are also permitted.
Visit the museum in Spain
Museo del Txakoli is located in the 18th century Palace of Mendibile in Leioa near Bilbao. Here, you can learn more about the history of txakoli and also see a large collection of traditional txakoli production machinery.