Spanish turron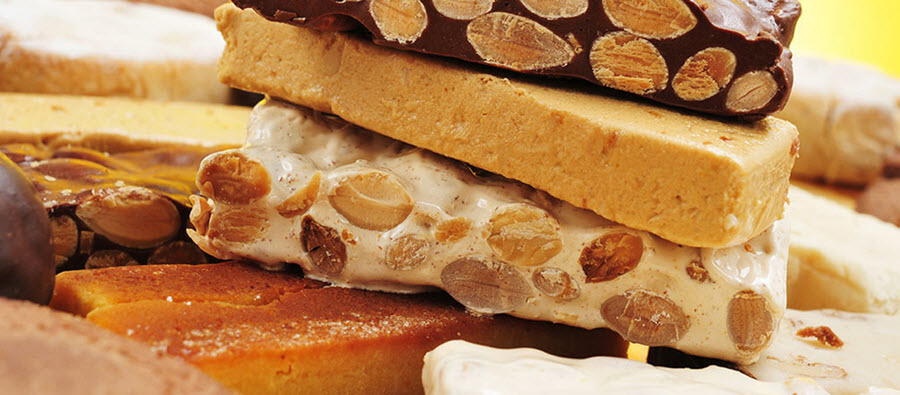 Spanish turrón is a type of candy strongly associated with the Christmas season in Spain, and it is also eaten around Christmas in many other Spanish-speaking countries world-wide.
Spanish turrón, also known as nougat, is traditionally made from honey, sugar and egg white + toasted almonds or other nuts. Today, several modern variants have been developed, including recipes which calls for chocolate, puffed rice, candied fruits or flavorful liquors.
Spanish turrón can be either hard and crunchy or soft and chewy.
The hard variety, turrón duro, is a compact block of whole almonds in a brittle mass of eggs, honey and sugar. Usually, around 60% of the product is almonds.

The most well-known hard turron is Turrón de Alicante.

The soft variety, turrón blando, is made from almonds that have been turned into a soft paste. The recipe often includes some oil, and the result is a soft, chewy and sticky turron that is easier to to cut up than the hard variety. Usually, around 65% av the product is almonds.

The most well-known soft turron is Turrón de Jijona.
Background
The exact origin of the Spanish turrón tradition remains unknown, but a similar confection called cupeto or cupedia was sold in Ancient Rome and hailed by poets of the antique world. The name turrón is probably derived from the Latin word torrere, which means "to toast".
Turrón has been known since at least the 15th century in the city of Jijona (formerly named Sexona) north of Alicante.
The oldest known recipe book which includes a recipe for turrón is the 16th-century Manual de Mujeres (Women's Handbook). In this book, which includes recipes for both food and cosmetics, we find a turrón recipe where honey and eggs whites are cooked, and once the honey has caramelized, peeled and roasted pine nuts, almonds or hazelnuts are added. The mix is then cooked a bit more before being allowed to cool down and cut into slices.
Where to buy Spanish turrón in the United States
Many grocery stores with a good selection of Hispanic food will have turrón available for the Christmas season.
In speciality shops focused on Spanish or Mediterranean delicacies, turrón is normally available year round.
There is also a wide range of online shops that sell and ship turrón to customers in the United States. Some of them ship from within the U.S., while other's are based abroad. Amazon and eBay are two good places to start your search for good turrón vendors.
Buying guide for Spanish turrón
Christmas season is the best
Since turrón is so strongly associated with Christmas in Spain, you are more likely to find a rich assortment of high-quality turrón in December.
Check the ingredients list
Traditional Spanish turrón is made from honey, sugar, eggs + almonds, tree nuts or hazelnuts. Today, many producers that sell traditional turrón also sell more modern variants, so you need to check the ingredients list if you want to make sure that you get the old-fashioned variety.
Marcona almonds
Many turrón aficionados only want turrón made with Marcona almonds. Marcona is an almond cultivar that has been grown in Spain for a long time. The kernel is short and round, the taste is sweet and the texture delicate. Compared to most other almonds, the Marcona is noticeably more rounded and plump, and the texture is commonly described as "more like a macadamia nut than an almond". If you want truly traditional Spanish turrón, then turrón made from Marcona almonds instead of any other almonds is the way to go.
Denomination de Origen
In Spain, Turron de Alicante and Turron de Jijona is regulated under the Denomination de Origen scheme. The Denomination de Origen seal may only be used for turrón that fulfil certain requirements, e.g. when it comes to the ingredients. There is for instance a requirement to include more than 60% almonds.
Protected status under EU law
Certain types of turrón have protected geographical status under EU law. Here are three examples:
Torró d'Alacant (PGI) (Valencian Community)
Torró d'Agramunt (PGI) (Catalonia)
What is Torta de Turron?
Torta de Turron is turrón shaped into a fairly large circular form, like a flat cake, instead of the classic rectangular bars. Both soft turrón and hard turrón is available as torta de turrón.
What is Turron de Guirlache?
This is a type of turrón popular in the Valencia region. It is similar to Turrón de Alicante, but made from caramel instead of honey.
What is Turron de Yema Tostada?
Yema tostada means toasted egg yolk, and this type of turron is sweet and sticky with a marzipan feel.