Spanish Passion Slot Machine

This is an online slot machine suitable for those who love Spanish culture, especially flamenco dancing and bullfighting.
Spanish Passion is a colorful 5-reel slot from the game developer EGT, in which a matador and a flamenco dancer have the leading roles, alongside symbols such as the treasure chest, the red rose, and the flamenco guitar and castanets (palillos).
The backdrop for the game is a bullfighting arena, filled with excited spectators.
Paylines
This game has 20 pay lines
Wagering
You can adjust the coin value and how many pay lines to activate.
Double-or-nothing
After each win, you can elect to play a mini-game where you can double the win by correctly predicting the colour of a hidden playing card. If you guess wrong, you lose the money.
Playing double-or-nothing is completely voluntary. If you don't want to risk your win, simply decline.
Progressive jackpots
Spanish Passion has no less than FOUR progressive jackpots. The bonus game in which you can win a progressive jackpot can be triggered at any time when you play, giving this slot an extra dimension of excitement and unpredictability.
Wild symbol
The symbol featuring both a matador, a bull and the bright red cape is a wild symbol and can replace any of the regular symbols to help you form a winning combination. (It can not replace the scatter since that is a special symbol.)
Sometimes the wilds stack up and cover one or more reels completely, which makes it even easier to form combinations that payout.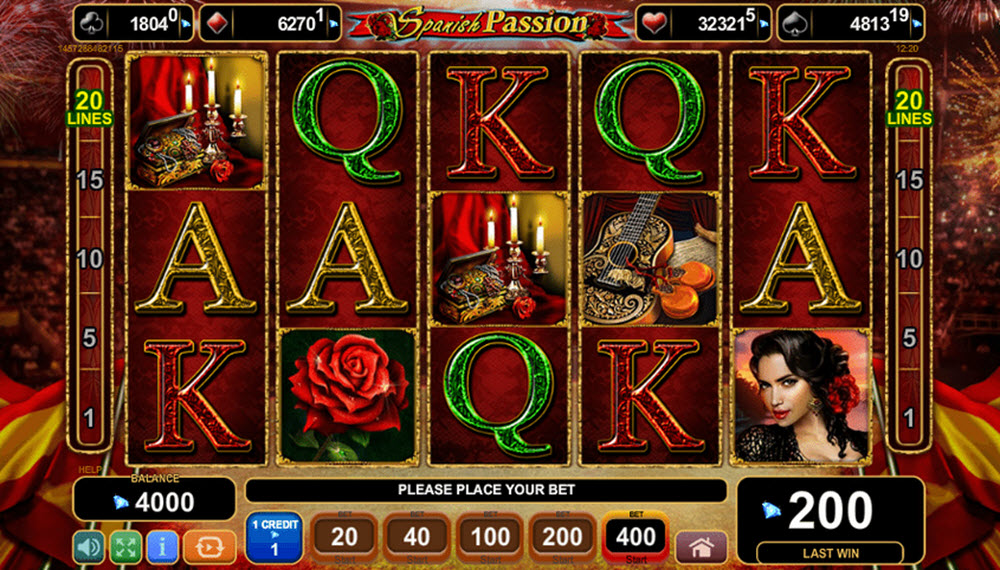 A scatter symbol that hands out free spins
The scatter symbol features the entrance to the bullfighting arena.
The scatter symbol can only appear on the first, third and fifth reel – never on reel #2 or #4.
If you get three scatters on reel #1, #3 and #5, you get seven free spins. During free spins, an alternate set of reels is used. Any additional scatter that appears during a free spin gives you an extra free spin.
Trivia: Spanish-style bullfighting
Spanish-style bullfighting – tauromaquia – has its roots in the pre-Roman era but wasn't crystallized into its modern form until the second half of the 18th century AD. In its modern form, three toreros (also known as matadores) each fight two out of a total of six bulls. In a Spanish-style bull ring of the highest level, each bull must be at least four years old and weigh a minimum of 460 kg.
Each matador has six main assistants:
3 banderilleros ("flag keepers")
2 picadores ("lancers"), riding on horses
1 mozo de espada ("lad of the sword")
There will also be an ayuda (who aids the mozo de espada) and several subalternos (subordinates). Among the subalternos, you'll typically find at least two peones (pages).
Modern Spanish-style bullfighting is a highly ritualized event, divided into three distinct stages (tercios). Also, the participants always parade into the arena and salute the presiding dignitary before the fight starts.
The costumes worn in Spanish-style bullfighting are inspired by the clothing worn in Andalusia during the 1800s. The matador wears a traje de luces ("suit of lights") with golden adornments, while banderilleros wear clothing adorned with silver.
In Spain, the bullfighting season runs from March to October.